Vueling network to expand to 100 destinations from Barcelona-El Prat Airport in 2013
London (Gatwick), Frankfurt and Düsseldorf will be new destinations in a fourth consecutive year of growth as expanding Spanish airline Vueling launches 28 new routes from Barcelona. The expanded network will further enhance existing operational bases too.
Vueling has also announced a new communications/advertising strategy   which focuses on its people, together with a new transparent and flexible fare structure designed for business travellers.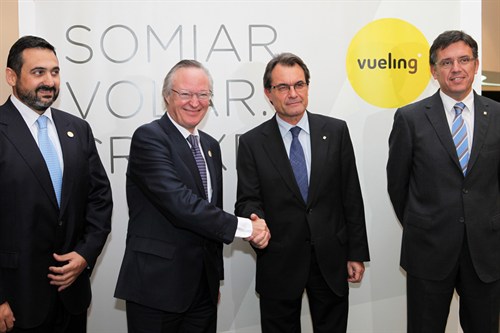 London October 17, 2012-.Vueling announced today it will expand its route network to embrace 100 destinations from Barcelona El Prat Airport in 2013 in what will be its fourth consecutive year of expansion at its home airport.  The new routes will come into effect from the summer schedule, commencing March 2013. A new service to Gatwick, London's second biggest hub airport, will be joined by Frankfurt, and Dusseldorf.  There will also be significant increases in the frequency of flights from Barcelona together with new cities in Germany, France, Italy and Scandinavia.
Over the past two summers, Vueling has launched a total of 45 new destinations to make El Prat the second airport in Europe, after Frankfurt, with the widest choice of short and medium range flights offered by its dominant carrier.   Vueling's objective is that in 2014 Barcelona will become the leading European airline for connections.
Of the 28 new routes planned for the next IATA summer season, which starts at the end of March 2013, five have never before operated before from El Prat.  They are Dresden (Germany), Rennes (France), Fez (Morocco), Rhodes and Kos (Greece). The airline is also adding four new countries to its network: the Gambia (Banjul), Finland (Helsinki), Bulgaria (Sofia) and Luxembourg.
London, Frankfurt and more options for the business passenger
Vueling, which already flies to London-Heathrow, will launch regular flights between Barcelona and London-Gatwick.  Routes to other European and North African cities which will be attractive to business travelers are Frankfurt, Stuttgart, Düsseldorf, Turin and Casablanca.  In making these route announcements, Vueling is responding to the demand for direct connections between the Catalan capital and destinations that are growing in importance for expanding businesses.  Vueling is on course by the end of 2013 to have increased the proportion of its business travelers network-wide to 50%.
Additional aircraft required
In order to realise these new routes, Vueling will increase the number of aircraft based at El Prat Airport from 34 to 43 and will incorporate 500 new employees including pilots, cabin crew and a range of support staff.
With this new push, Vueling is consolidating its already strong leadership at El Prat Barcelona Airport, where it currently holds a 30% market share, serving more than 240 daily flights. By virtue of this growth in activity, Vueling hopes to attract more than the 4.7 million visitors to Barcelona that arrived on its flights in Summer 2012.
Growth in most of its bases
In addition to growth at Barcelona, Vueling will expand the majority of its remaining bases.   Also in the forthcoming summer season there will be more flights from Bilbao to the Canary Islands, Greek Islands and from Berlin from the beginning of the summer.  From Málaga and Alicante, there will be more routes to France and Benelux.   The Balearic Islands will have bolstered capacity in some of its existing routes, such as Palma-Moscow, increasing from three to five times a week, while there will be more frequencies from Paris Orly and Amsterdam. And finally, in the Canary Islands, schedules will be bolstered with the business traveler in mind, with Vueling offering strong connections to Northern Europe via Barcelona.
Vueling freshens its communications messages and presents a new concept - Business Excellence
Vueling is consistently working to improve the services it offers for the business traveler.  With this in mind it launched yesterday its new 'Excellence' class, which, at a very competitive price, offers all the elements a passenger needs to fly with flexibility, convenience and speed. Differentiated cabin seats, access to VIP lounges, priority boarding, ergonomic head rests, snacks and refreshments  on board, total flexibility of changes and extra loyalty points are just some of the attributes of this new tariff.
All these developments are part of a significant change which is now underway at the airline: a renewed communication message which reflects maturity and the current dimension of the company, without sacrificing the innovative spirit that has always characterized the brand.   The centre of the new strategy is Vueling's committed people and all of this is included in a new brand concept:
LOVE THE WAY YOU FLY
It is an international concept that denotes quality of service, as well as closeness and trust.
List of new routes summer 2013
GERMANY
BCN FRANKFURT
BCN DÜSSELDORF
BCN DORTMUND
BCN DRESDEN
BCN HANNOVER
BCN STUTTGART
BULGARIA
BCN SOFIA
SPAIN
BCN FUERTEVENTURA
BCN PAMPLONA
BCN VALLADOLID
FRANCE
BCN RENNES
GAMBIA
BCN BANJUL
GREECE
BCN RHODES
BCN KOS
ITALY
BCN BOLOGNA
BCN BARI
BCN CATANIA
BCN TURIN
LUXEMBOURG  
BCN LUXEMBOURG
MOROCCO
BCN CASABLANCA
BCN FEZ
BCN NADOR
BCN TANGIER
NORDIC COUNTRIES
BCN BERGEN
BCN GOTHENBURG
BCN HELSINKI
BCN OSLO
UK
BCN LONDDON (GATWICK)
TOTAL                     28