My Vueling City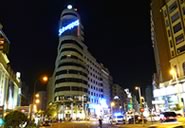 Our leisure and travel guide offering the best selection of restaurants, festivals, clubs, shops, podcasts and places of interest for all Vueling destinations.
Destinations
Vueling flies you to…
We fly to over 100 destinations covering the main cities in Spain, Europe, North Africa and the Near East, with direct flight or flights with connection in Barcelona. You'll be surprised to find how many places we can fly you to from your city. And we know that you want more, so we are adding more destinations.

Vueling opens up a world of possibilities to you!

You've selected a departure date that is later than the return date.
Before continuing, please select the number of passengers that are going to fly.