My Vueling City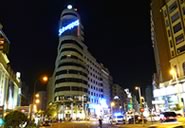 Our leisure and travel guide offering the best selection of restaurants, festivals, clubs, shops, podcasts and places of interest for all Vueling destinations.
Destinations
Explore all Vueling destinations
We fly to over 100 destinations, including major cities in Spain, Europe, North Africa and the Middle East.
We have base in Barcelona, Madrid, Seville, Málaga, Valencia, Bilbao, Ibiza, Mallorca, Alicante, A Coruña and Gran Canaria as well as international bases in Amsterdam, Rome and Florence.
And that's not all... we've extended our destinations through flights connecting to Barcelona. What more can you ask for? Yes! What's more, we're still introducing new routes.

All Vueling destinations
Austria
Belgium
Bulgaria
Croatia
Czech Republic
Denmark
Finland
France
Gambia
Germany
Greece
Israel
Italy
Lebanon
Luxembourg
Malta
Morocco
Netherlands
Norway
Portugal
Romania
Russia
Spain
Sweden
Switzerland
Ukraine
United Kingdom
You've selected a departure date that is later than the return date.
Before continuing, please select the number of passengers that are going to fly.