Luggage
Here you'll find all you need to know about your luggage
I'm going to check in luggage

Checking in now is cheaper than at the airport!
Take everything you need with you and don't be loaded down at the airport. If your luggage is going to exceed the 10 kg weight allowance or the size allowance of 55x40x20 cm, check in now and fly more relaxed.
+ info
Check in your luggage
Check in online and save!
Checking in your first suitcase at the airport costs 35,00 per flight and item. If you check in now, it will only cost you between 10,00 and 29,00 per item each way.
Checking in your second and third suitcase at the airport costs between 70,00 and 90,00 per flight and item, but if you check in now it will only cost you between 25,00 and 90,00 per item each way.
Remember:
On flights operated by Vueling, each passenger can check in a maximum of 3 bags weighing up to 23kg per item. If the maximum allowance is exceeded, at the airport you will be charged

12,

00

for each excess kilo per bag each way, up to a maximum of 32kg per bag each way.
For flights operated by British Airways you cannot add bags through our website. You can do so at the check-in desk on the day of the flight.
Once the suitcase has been checked, you cannot cancel your reservation or request a refund of the amount paid.
By choosing either of these fares, each passenger may check in 1 bag of up to 23 kg.
Check in your first suitcase from just 10,00 per journey and item
I want to check in luggage now
Hand luggage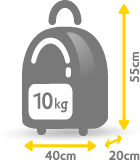 Your hand luggage is what you can take on the plane with you, providing it does not weigh more than 10 kg and is no larger than 55x40x20 cm.
Remember, regulations at the boarding gate are very strict. If the size or weight of your luggage exceed the allowances, you'll have to pay a charge of 35,00 per item each way.

In addition, even when conforming to the hand luggage weight and size limits, our staff may deem it necessary to move hand luggage to the cargo hold depending on how full the plane is, at no extra cost to the passenger.
Only the Excellence fare allows you to take hand luggage weighing up to 14 kg, plus you'll have guaranteed space on board.
Insure your luggage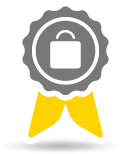 Luggage insurance covers you if your bags are stolen, damaged or lost:
Tracing and locating luggage.
Compensation in the event of loss or damage.
Cover for expenses caused by luggage delay or by theft or loss of passport.
Cobertura de gastos generados por demora de equipaje, o por pérdida o robo del pasaporte.
Card cancellation.
From just

9,

00

(price varies according to fare).
You've selected a departure date that is later than the return date.
Before continuing, please select the number of passengers that are going to fly.