Damaged and delayed baggage
See up-to-date information on the locating of your luggage.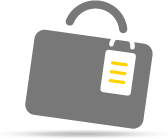 We know how important it is to have all available information on your luggage. That's why we provide you with the WorldTracer system, through which you can find out all the latest information on the tracing of your case.
If the details of the file we show you need to be corrected, please notify us as soon as possible so we can update them and thus return your luggage to you more quickly.
As soon as we receive your luggage, we notify you to arrange a delivery time.
If more than 4 days have gone by since your luggage went missing and we still haven't traced it, please click here and add any information you deem necessary.
For more information on your damaged case, please fill out the following form by clicking here
You've selected a departure date that is later than the return date.
Before continuing, please select the number of passengers that are going to fly.