Flights to
Minsk

from

No info

The capital of Belarus offers culture, shopping and an exciting ambience. Discover it for yourself!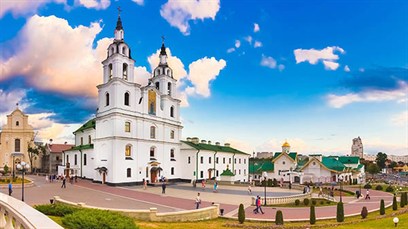 ---
Fly at the best price with Vueling
Minsk is the largest city in Belarus and one of the oldest cities in Europe. Built along the banks of the Svisloch River, the city has managed to preserve its Soviet past through its impressive buildings, wide avenues and fabulous monuments.
Along one bank of the river lies Troitskoe, the only remaining part of the old city. From here, you can get across to the Isle of Tears, a modern art monument dedicated to the soldiers who died during the Afghan war.
We also recommend visiting the Holy Spirit Cathedral, now converted into an art gallery, or the circular Ballet and Opera Theatre. And don't leave Minsk without visiting Gorky Park or experiencing the incredible atmosphere of Komorovsky market.
You've selected a departure date that is later than the return date.
Before continuing, please select the number of passengers that are going to fly.