Flights to
Kaliningrad

from

No info

Stroll around the large parks and monuments of this Russian city. And discover all its history!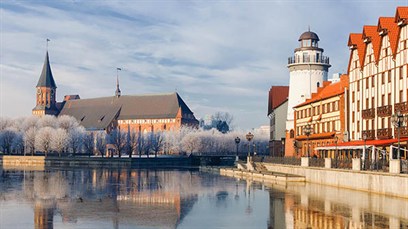 ---
Fly at the best price with Vueling
The city of Kaliningrad is isolated from the rest of Russia and borders onto Lithuania and Poland. The city has a curious history as it was built over the old German city of Königsberg, but in pure Soviet style.
When visiting the city, you'll discover that the old Lutheran cathedral, the King's Gate and surrounding area maintain the architecture of the former German city. We highly recommend visiting the Cathedral of Christ the Saviour, whose golden domes can be seen from almost anywhere in the city.
Other places of interest in Kaliningrad are the Ocean Museum and the Zoo, one of the oldest in all of Russia. And be sure to take a long stroll through Kalinin Park, a large green lung in the very heart of the city.
You've selected a departure date that is later than the return date.
Before continuing, please select the number of passengers that are going to fly.