Flights to
Eindhoven

from

No info

Discover all the charm of Eindhoven, the central European capital of design.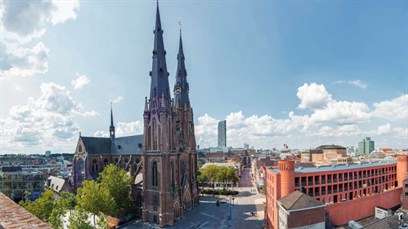 ---
Fly at the best price with Vueling
Eindhoven is a bustling city, full of great shops, bars and street cafés. A leading player during the industrial age, it is now one of the most important design centres in Europe. Do you want to discover it for yourself? Book your flight to Eindhoven via our website or app!
When you fly to Eindhoven, you'll be landing at its international airport, just 7 km from the city. There are various links to reach Eindhoven city centre in about 20 minutes; you can see all the details on our web page about the airport.
Eindhoven is a city adapted to our new times, modern and vibrant, but without neglecting its past and preserving its iconic buildings. Testament to this are the churches in the urban centre, most notably Saint Catherine Church and the Sacred Heart Church.
On the economic and innovation front, Eindhoven is known worldwide thanks to Philips, the company that created the carbon-filament lamp in 1891 and has since become one of the largest international companies.
What to do during your stay in Eindhoven? For some great nightlife, check out Stratumseind, a street just 225 metres long offering all kinds of options (including 54 music bars!). The city is full of things to do, since design and culture play such a leading role in the city, especially during Dutch Design Week, which is held in October and attracts over 200,000 people from all over Europe.
Eindhoven is also a gateway to other nearby cities such as Brussels and Düsseldorf. And don't forget that in Holland we also fly to Amsterdam and Rotterdam.
Choose your dates to fly to Eindhoven and enjoy a unique experience!
You've selected a departure date that is later than the return date.
Before continuing, please select the number of passengers that are going to fly.